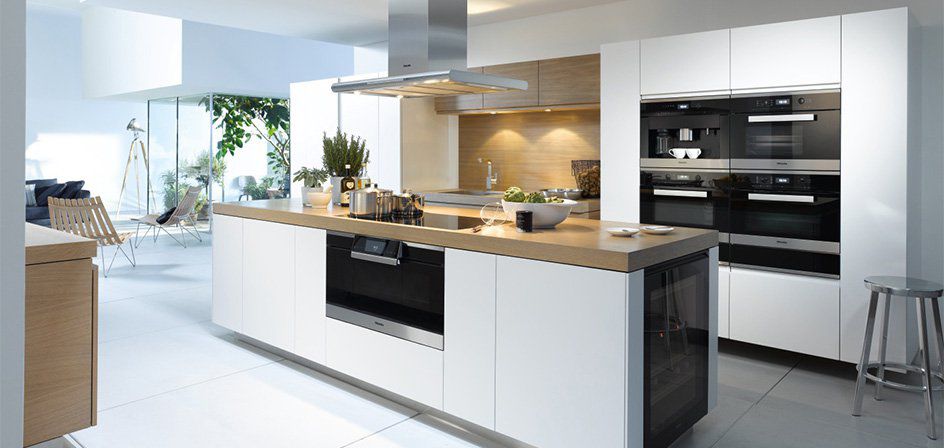 Miele Appliance Repair Tarzana Are Experts
Tarzana Appliance Repair has recently improved its professional home appliance service. They are able to service all brands and different models currently on the market. We have technicians that specialize in many different brands.
When you choose us, you make sure that you will be getting support from certified, highly skilled and very courteous technicians. They are able to quickly determine and solve any home appliance or HVAC issue that you may come across.
One of the brands that our company offers services for is MIELE. MIELE has a full range of home and kitchen appliance products. These products include refrigerators, ranges, microwaves, hoods & vents, dishwashers, washers, dryers, and heating and air conditioning units.
MIELE has added a lot of energy and resource-efficient models to its home appliance line of products. In its effort to become environmentally friendly, it has also looked into more eco-friendly practices for manufacturing of its products. MIELE is on a mission to reduce the amount of carbon dioxide it produces which may cause harm to people or to the environment.
Miele Appliance Repair Tarzana cares about the environment as much as MIELE does. This is why Tarzana Appliance Repair has become Southern California's leading MIELE appliance repair expert.
Miele is a German manufacturer of high-end home and commercial appliances founded in 1899 by Carl Miele and Reinhard Zinkann. The company remains family owned and family run even today.
New to MIELE?
Two families have shaped the company for more than 100 years: the Miele and Zinkann families.
In 1899, with four lathes and one drilling machine, the engineer Carl Miele and the businessman Reinhard Zinkann founded a company for the manufacture of cream separators in Herzebrock, Germany. Their guiding principle becomes the business philosophy: "Immer besser."
Miele was so convinced of the quality of its products even at that time that a 10-year warranty was available on request. In 1974, a new generation of built-in ranges enters the market along with the new kitchen generation from Miele's Warendorf plant.
Miele has ten Centers throughout the United States. These inspirational resource centers are staffed with knowledgeable staff.
Each Miele Center has its own calendar of events – open to the public – that include:
Product Cooking Presentations – performed on Miele cooking appliances.
MasterChef Classes – This hands-on class provides an in-depth opportunity to develop culinary skills while gaining personal experience with Miele's state-of-the-art cooking appliances.
Full Steam Ahead Classes – A Miele product specialist presents steam oven benefits, giving step-by-step instructions and a hands-on cooking experience.
Riedel Wine Tastings – A fascinating wine glass tasting, where a representative will demonstrate the relationship between the shape of a glass and your perception and enjoyment of wines.
Check out the MIELE line of high-end German-produced home appliances: http://www.youtube.com/user/mieleonline
You also need proper training in the use of your MIELE products. If you want to extend the life of your product, you should follow a frequently booked maintenance schedule.  The bottom line and the preference is to think troubleshoot over repair. Therefore, you can ensure the longevity of your MIELE appliances.
Not sure if you need our service? Call us at (213) 290-8125 to see how we can help.
Usually, a little noise is nothing to worry about, but sometimes, it is an indication of something larger that is about to come up. It does not make sense to have to wait when you know Miele Appliance Repair Tarzana offers same-day service in most areas.a
Miele Appliance Repair Tarzana  has in stock MIELE approved factory originating spare appliance parts on our service vehicles.  This means if you should need an MIELE product repaired, that appliance or product part is on hand. Down times are minimal.
24/7 Service Calls
  If your repair requires a special part, there is no need to worry.  We can order the part and in most instances, we can have it delivered to you the next business day.
Not enough information? Watch MIELE on YouTube: http://www.youtube.com/channel/HC5u8rW8OJwps or visit MIELE's official page at http://www.mieleusa.com.
Miele Appliance Repair Tarzana professional appliance technicians have earned full Miele credentials. They maintain and update them on a regular and continuous basis. Most Miele Appliance Repair Tarzana appliance technicians have also received certifications from the U.S. Environmental Protection Agency and the International Society of Certified Electronics Technicians as Certified Appliance Professionals. All Tarzana Appliance Repair appliance repair technicians are licensed bonded and have passed background checks.
MIELE Recalls:
You may visit MIELE's web site at http://www.mieleusa.com or access information from the U.S. Consumer Product Safety Commission at: http://search.cpsc.gov.
Miele Appliance Repair Tarzana dispatchers are available on a 24 hours a day 7 days a week 365 days a year at the company's toll free number: 213-290-8125. Also, you can visit our Contact Page. You may also request a regularly scheduled service maintenance with one of our expert technicians by a service appointment during office hours.